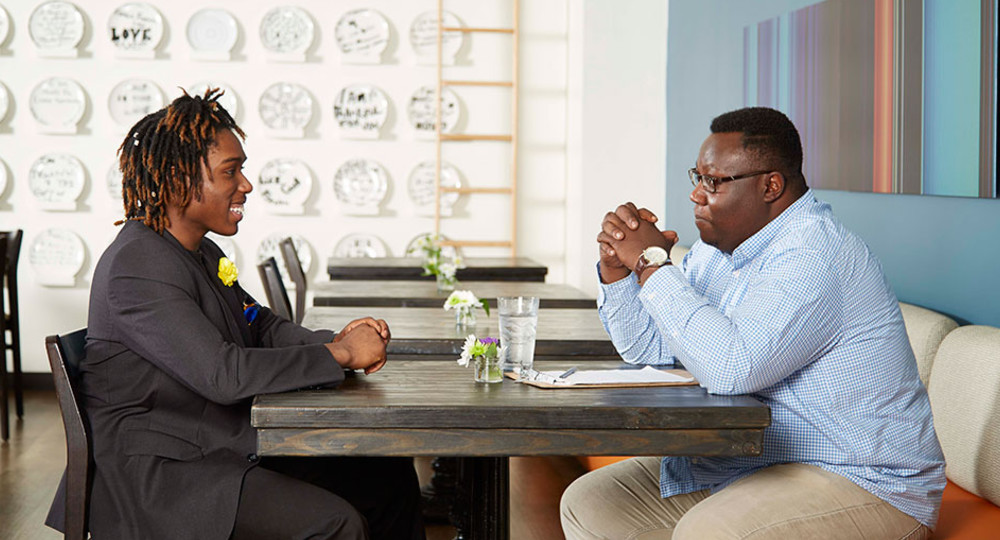 We recently had the opportunity to work with Café Momentum, a Dallas-based nonprofit restaurant and culinary training facility that works in collaboration with the Dallas County Juvenile Justice Department. This organization is truly doing amazing things for the local community!
Opened in 2013, Café Momentum, the brainchild of Chad Houser, helps youth break the cycle of violence and crime by teaching them marketable skills for a more successful future after they've been released from juvenile detention. Each year, Café Momentum works with 120-160 paid interns with the hope and intention of reaching as many youth as possible. Each intern is exposed to everything in the restaurant – from operations, equipment and management protocols to cuisine terminology and customer service and they rotate through every aspect of working in a restaurant – from waiting tables to washing dishes, while working side-by-side with established chefs. Café Momentum not only supports these young people by providing valuable vocational skills, but helps the interns with things like healthcare needs, housing, legal support and court hearings.
Recently, an employee at The Container Store heard about Café Momentum's need to organize their kitchen and how could we say no to the opportunity to make their work spaces even more efficient?! Check out their newly organized space:
While at Café Momentum, we had the chance to sit down with Khalil Miller, Floor Captain and Lead Prep Cook. Khalil is part of the program's first graduating class, he was the first graduate to be hired full-time at the Café AND he was recently featured in Zagat's 30 Under 30!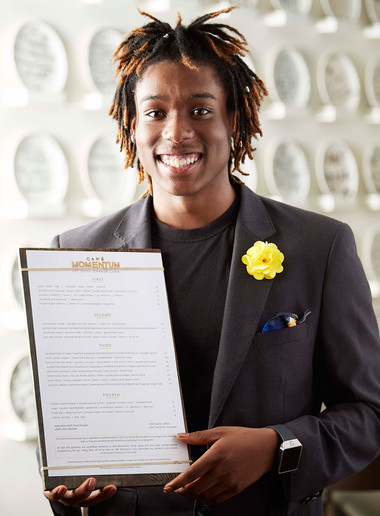 Tell us a little bit about yourself and how you got hired on at Café Momentum?
I'm 19 years old, a Dallas native and a team captain here at Café Momentum where I train and mentor new interns.  I have been with Café Momentum since they opened in 2013 and I'm the only intern that has stayed this long. I'm proud to have been here since the beginning.
I came to Café Momentum from Youth Village, a placement option after leaving Dallas County's Juvenile Detention Center. Youth Village offers several programs to help participants find a career path and I chose the Culinary Program, which taught me everything from cooking to food prep and handling. Shortly after completing the program, I got to attend a Café Momentum pop-up, which happened the first of each month before we had opened the everyday restaurant. I just felt like it was the right fit for me, so I applied for the internship.
What's the experience been like?
Café Momentum is a great organization with many programs that get you set up right for life. As soon as you graduate, there are a lot of opportunities out there.
What kinds of things do you do here at the restaurant?
We do everything—cook, wash dishes, bus tables, serve, host…everything.  I really like to cook, but my biggest strength is being in front of people. I like working with the customers.
What kinds of things have you learned?
I've been mentored along the way, really focusing on advancing my skills – training specifically on job functions. And there's even more mentoring and training now for new interns than there was when I began as part of the very first team here at Café.
What is it like being a mentor to new interns after going through the program yourself? 
It feels great! This is another step for me in my life and really helps with the ongoing development of my management and leadership skills.  I can always learn something new and get better.
How do you feel your experience at Café Momentum will affect your future? 
I now have a great resume, especially if I stay in the food service industry. But ultimately the skills I've learned – leadership, management, interpersonal skills, patience – will go with me anywhere.
Do you see yourself pursuing a lifelong career in the restaurant business?
I could be here at Café Momentum another year or 10 years.  Not sure what the future holds – I'm not looking that far ahead yet!